WHAT'S IT ALL ABOUT?
How can we encourage the sort of mental and spiritual dexterity and social evolution that will allow us to thrive in this post millennial world? How can we change to cope with the changes that challenge us? How can we be happy, how can we have fun, when the impediments and cynicism loom so large?

It is the ARTS that develop imagination and problem solving thinking - that encourage inspiration and innovation, that bring joy and color to our existence. Zono Art Productions! (or Z.A.P!, for short) exists to promote the ARTS - and have FUN doing it!

Zono Art, stylistically, makes use of mass culture imagery, appropriating a popular visual vernacular, caricature method and cast off materials in seriously humorous, Post-Pop artworks of layered meaning.

It is my sincere hope that viewers will be inspired to see society, and life in general, with a brightened heart and new eye, and that, in some modest measure, this will help promote positive change in our world.

THANK YOU for visiting the site! I hope it's been thought provoking and entertaining.
Rik Verlin Livingston
Art Evocator
Zono Art Productions
ALL comments are read and appreciated: zonoart@yahoo.com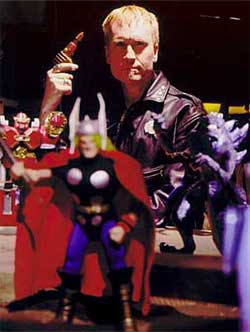 Photo of Rik and the Toy Army by Kirsten Hepburn

zonoart@yahoo.com
Rik Verlin Livingston
ZONO ART PRODUCTIONS